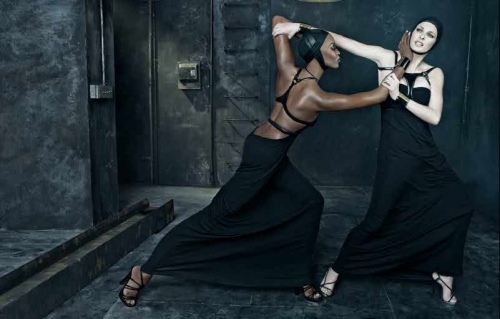 30 Jan

Linda and Naomi battle it out for Dsquared

Supermodel Naomi Campbell and Linda Evangelista are fighting over the new ad campaign of Italian fashion label Dsquared. Now before you get judgmental, the two are shown engaged in a catfight in the spring/summer '09 after the label decided to shoot the ad in a unique way.

Shot by ace photographer Steven Meisel, the advertisement campaign shows both the models clad in slinky black maxis, strappy sandles and chin-strap skull caps, reports Marie Claire.

High-end fashion label Dsquared belongs to twin brothers Dean and Dan Caten, fashion designers. They have been featured on "America's Next Top Model" and appeared in the music video for Fergie's "Clumsy."

In March 2008, Dean and Dan signed an agreement to design sunglasses with Marcolin, an Italian sunglasses and spectacle manufacturer. The collection is set to be released in 2009.