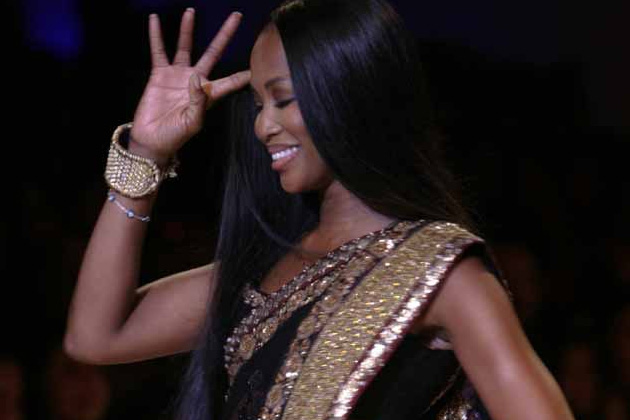 03 Apr

Naomi owns the catwalk in Mumbai (PHOTOS)

Even though I know this fashion show that Naomi Campbell recently walked in was for charity, I still think she single handly put all of those other models to shame in the strut and feirce department. Naomi is still my favorite supermodel, heck, it was Naomi and Linda Evangeslita that inspired to start this very blog. I just don't know of too many 39 year olds who can work it like this woman does. Enjoy the pics.

**Also in Naomi news** according to the AP

BERLIN (AFP) – Supermodel Naomi Campbell lashed out Friday at what she sees as latent racism in the fashion industry, which she said gives preference to "blond, blue-eyed models" over black women.

"You know, the American president may be black, but as a black woman, I am still an exception in this business. I always have to work harder to be treated equally," she said in a Glamour interview appearing on Monday in Germany.

"In the past, there were more opportunities for black models but the trend towards blond women has again become extreme. In magazines, on the catwalk, I see blond, blue-eyed models everywhere," she added.

In 2007, the London-born Campbell, along with fellow models Liya Kebede and Tyson Beckford, launched a campaign against what they said was discrimination in the fashion world.