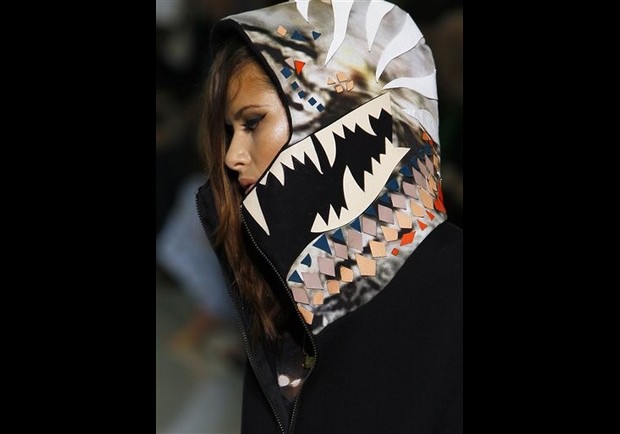 04 Oct

Kanye West's Paris fashion week debut a complete disaster.

Okay, I think I am gonna have to go with popular opinion with this one and officially report that Kanye West's debut as a fashion designer was a complete horror show.  I could not find a single piece that looked like it was remotely stylish or creative . Everything looked too big for the models, and the excessive adornments on the shoes and blouses looked cheap and hand made. Some pieces looked like they were incomplete, and not in a good way. This attempt at fashion reminded me of like a child's school fashion project, or a home economics project, it just didn't seem as if any thoughtful fashion expertise and talent was put into this 'collection'.

Kanye has asked the fashion media to be gentle with him. I think he is doing this because he realized at the last minute that what he thought was his hidden creative fashion genius, was really just his massive ego making him believe that he could actually pull this off. He had to realize or been told by someone with more fashion expertise that this 'woman's ready to wear' line was in no way actually ready for anything. But I am sure in typical Kanye West fashion he assumed like usual that everyone will 'get' his take on fashion. He managed to get some B list celebrities to show up, and even a few A-listers.

Lindsay  Lohan

,

Mary-Kate

and

Ashley  Olsen

,

Bar Rafaeli

,

Anna Wintour

,

Jared Leto

  and supermodels

Karlie Kloss

and

Chanel Iman

  were all in attendance to check out his line DW by Kanye West (in memory of his  late mother, Donda West).

If Kanye can recover from this painfully tacky debut it will be tremendous, and inspiring. I do think Kanye is a very creative, and talented man, but that does not mean your a fashion designer. You'll never seen Karl Lagerfeld trying to be a rap artist just because he is creative. Until you truly earn and comprehend the art of design and fashion, you should stick to music Kanye.