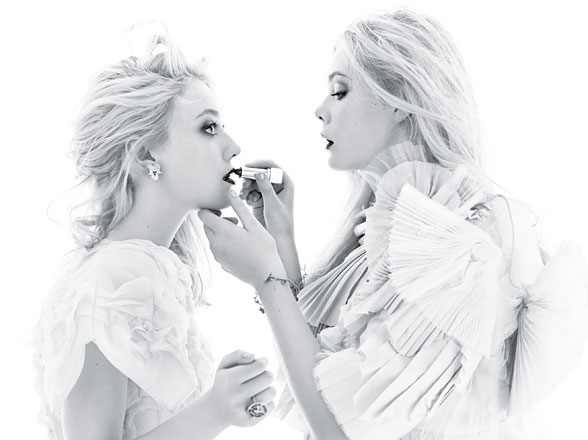 16 Nov

Celebrity sisters Dakota & Elle on the cover of W Magazine

The fabulous Fannings—Dakota and Elle—on fame at 6, couture shows at 13, and their shared obsession with reality TV. I like these two, they are like the A-list , more talented version of the Olsen twins when it comes to actresses. Dakota and her sister are both very talented girls.

From W Magazine
Lynn Hirschberg: Elle, since Somewhere, in which you played the only child of a male movie star, you have been very busy: costarring in Super 8, which was a hit this summer, and in We Bought a Zoo, which is in theaters December 23. You're 13—how has your life changed since Somewhere?
Elle Fanning: After Somewhere came out, people started to recognize me more. Whenever I was walking down the street, they'd be like, "Oh, wow—are you Elle Fanning?" Before Somewhere, they asked me if I was Dakota Fanning, because we looked alike, and I'd say, "No, I'm her younger sister." And they'd say, "Oh, okay." But now I think they are starting to realize I'm my own person.

I'm an older sister, and my sister is always telling me how difficult it is to be a younger sister. But Dakota seems like a nice older sister.
She is a nice older sister. But it's not like we always get along. Now that she's going to college, it's different. I went into her room at home in California, and all her clothes were gone! Her closet was empty! I don't get to go in there and steal clothes anymore. It's really strange. It's sort of like she's off making a movie, but this time she's not coming back.

Your first part was playing Dakota as an infant in I Am Sam. In The Curious Case of Benjamin Button, you played the young Cate Blanchett.
I was 9 years old during Benjamin Button. I had to wear a long red wig because [Cate] had red hair in the movie. I remember that. I had a great time on set. The director did a lot of takes, and he would say, "Take 50," and I would just go do it again. I was only 9, so I thought that was fun.

Super 8 looks like it was exciting to make—the kids were the stars of the movie.
It was great! I was 12 when I did Super 8, and when Dakota was 12, she did War of the Worlds. Steven Spielberg was involved with both movies, so we both worked with Steven when we were 12.

You have kind of a love scene in Super 8. Were you nervous?
I didn't have to kiss him. But it was a boy-girl scene, and we had to like each other in the movie. All the other boys made fun of us because we had to like each other. Did you have trouble pretending there was a monster about to attack you?

When we were filming, J.J. [Abrams, the director] would say, "The monster is right there," and we'd be looking at a little dot on a pole. That's it, that's the monster—and we'd have to be afraid of it. We didn't know what the monster was going to look like. J.J. kept that a secret from us throughout the movie. We were all probably imagining something different. It was fun going to the first screening and finally seeing the monster. That was the first time I saw what I was screaming at.

Are you still taking ballet?
Yes, five days a week. That's something I always try to keep on my schedule. I would love to do a musical! Dakota did The Runaways, so she got to sing in that one.

Do you watch Dancing With the Stars? That's my guilty pleasure.
Sometimes. We watch a lot of reality TV. My sister and I record Big Brother. We're obsessed! And we love old game shows like Password and the original Family Feud. Also, me and my sister watch Criminal Minds. We record every episode, and we watch it every single night.

Why?
My sister likes psychology, and they really get into the mind of the killers.

Maybe you should do a guest spot.
I've been on Criminal Minds twice! On the first show, a boy brought kids out to the woods and was beating them with a baseball bat, but I got away. Then they brought Tracy, my character, back—as a kidnapped girl. They saved me two times! Tracy lived!

I know it was your dream to go to Paris, and you were invited to the Chanel couture show in July. Did Paris live up to your expectations?
Oh, yes! When I found out that I was invited to the Chanel show—that was the loudest I've ever screamed in my life. That was the best day of my life. It was my first fashion show, and I know every model by name. I go on Style.com and look at all the shows. It was just the best experience ever! And, of course, we did some sightseeing. We went to the Eiffel Tower at night. It was sparkling.

So, are you happiest when you are working or in Paris?
I would be the happiest you would ever see me if I got to film a movie in Paris. That would be everything!