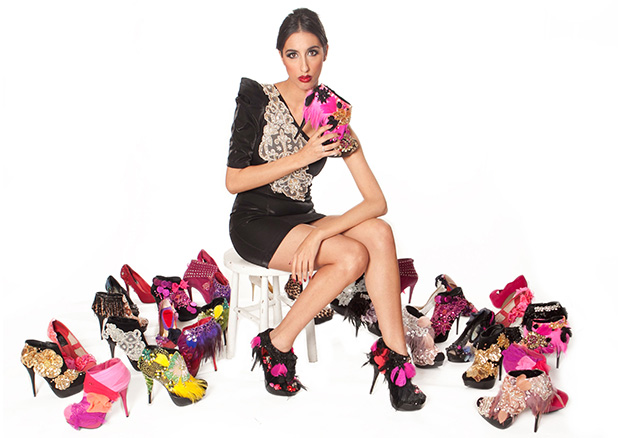 10 Jun

The Real Cinderella Of New York, Designer Pamela Quinzi
A New Modern Princess
Italian fashion  designer Pamela Quinzi's life may seem just like a fairytale set in modern times. The young, beautiful talented shoe and clothing designer is making a huge splash in the New York City fashion scene and her Kilame Collection is steadily gaining momentum as a must have item for the cities top trend setters.
Pamela's shoe collection is made from handcrafted embroidery ad applications with Swarovski crystals, feathers, lace and silk flowers, a combination of materials and colors inspired by the energy of New York City combined with a Baroque allure and the passion for the Haute Couture.
The creation of a unique style . Pumps and ankle boots on 6" high heels. Black and nude for a fairytale like mood, metallic gold or silver for a trendy attitude and a variation of pop up colors for a glamorous time.
Her collection pays special attention on the details like a small crown, cute little hearts, real stones. Everything is studied to capture women's attention and desires.
The Early Years
At the age of 14 she decided to attend the Institute Armando Diaz in Rome, an Italian high school specializing in fashion. Learning about the Fashion business she was also an intern for the oldest Italian couture brands: Sorelle Fontana, Gattinoni, Sarli.
After earning her high school diploma, she moved to Milan and attended the Institute Marangoni for four years, studying fashion design with a specialty in accessories.
She graduated in 2005, starting her carrier in Milan. Pamela has designed extensively at the upper echelons of the fashion industry. She was responsible for the development of two collections for the iconic Fiorucci brand: Fiorucci and the Fiorucci Pin Up Collection.
She developed Nijole's women's collection of clothing, evening dresses, and accessories, including bags, shoes, and jewelry. She developed a highly regarded clothing and accessory line for Shane and a beachwear collection for Cala Di Volpe – Bain De Minuit.
Working alongside the acclaimed designer Rossana Buriassi, she designed collaborations with leading luxury lines such as Armani Privé, Dolce e Gabbana, and Fiona Swarovski.
With the Massimo Bonini Showroom, she developed the woman's shoe collection for Paolo Ferrari's autumn and winter 2008-09 collection.
Watch The Official Video For Pamela Quinzi's Collection
[ Related:
More About The Kilame Collection & History
]
Isabella Gucci decided to ask Pamela Quinizi more about her collection, her opinion of the shoe design industry and what inspires her most.
What is Kilame and what type of woman did you create the line for?
'Kilame is the High end Fashion brand designed by Pamela Quinzi in New York City. It's dreamy, romantic, sophisticated, glamorous, sexy, elegant is the One of a Kind shoes collection inspired by a new modern princess: Kilame.'
What is your opinion on American women's footwear compared to Italian footwear? How is your brand different?
I think that in both cases the most important thing is: The shoe needs to be comfortable. So it's very important for me to choose styles that a woman can enjoy and feel good in. For the designs here in America i feel that i can be more free and crazy sometimes to express my creativity in a certain level especially for Red Carpets type of shoes.'
Which celebrities would you like to wear your shoes?
'I hope soon Lady Gaga and Rhianna, my favorites.'
What's your favorite piece in your shoe collection?
'My favorite INCANTO Boots. Pearls, crystals, sequins and feathers in light pink and black.'
You are from Italy a country known for beautiful footwear, why did you choose to make New York City your home base?
'I didn't choose NY, it's NY that choose me.'
What besides fashion are your deepest passion/interests?
'Movies, music, dance.'
Your fashion shows are always exciting and beautiful, do you get design inspiration from your shoes when making your dresses or the other way around?
'My dresses inspirations are also from a fantasy world, fairy but very sexy too and yes the colors are inspired by the shoes.'
How do you want your clients to feel when they wear your shoes?
'Like Cinderella!'
Whats the typical price range for a pair of Kilame shoes or dress?
'From $200 and up for shoes, the couture peices starts from $500. The dresses are from $150 up.'
What's next for your Kilame Collection in the near future?
'Kilame collection will be presented in a new boutique in Rome the next June 27th, new photo shooting around Italy and in September NYFW 2014.'
Find out more about Pamela Quinzi and her Kilame Collection online
Website: http://www.pamelaquinzidesign.com/
Blog: http://cinderellaofnewyork.com/
Facebook