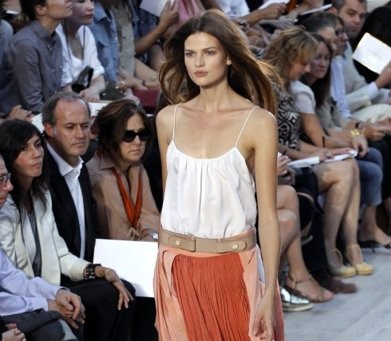 07 Oct

Bra-tops, pastels and pleats: the Paris fashion glossary

From bra tops and citrus fruits to lace masks or slinky, long sleeves, here is a glossary of trends spotted at the Paris ready-to-wear shows for spring-summer 2012, which wrapped up Wednesday:
BRA-TOPS: In ladylike pastels at Chanel, body-sculpting black at Roland Mouret, or in an orange-and-blue check covering the shoulders at Rochas' 1960s inspired show, bras were out in the open as tops in their own right.
BRODERIE ANGLAISE: The delicate style of embroidery, with little eyelets edged in a buttonhole stitch, was a keynote at Louis Vuitton, but also popped up in daisy patterns at Giambattista Valli and Nina Ricci, while Valentino's sleek macrame dresses achieved a similar, innocent feel.
CITRUS FRUITS: Sweet, bright orange lit up Chloe's long pleated dresses or Anne Valerie Hash's fluid tops, daffodil dresses bloomed at Issey Miyake, Carven used a bold sunflower, there were bands of citrus print at Dries Van Noten and soft shades of lemon to tangerine at Sonia Rykiel.
COLLARS: Demure, buttoned-up collars turned neo-romantic at Valentino, sweetly old-fashioned at Louis Vuitton and delicate at Sonia Rykiel, while Yohji Yamamoto and Moon Young Hee added flounces and there were ornate swirling ruffs at the neck from Haider Ackermann.
LACE: Valentino's neo-romantic belles were adorned in lace from head to toe, but there were also cascades of lace gowns at Christian Dior and John Galliano and edgy lace masks at Alexander McQueen.
MAGNIFYING/SHRINKING: Victor and Rolf threaded giant stitches into baby doll dresses, Stella McCartney shrank the detail of well-known patterns to create uniform colours, while Louis Vuitton built its whole candy-coloured look on giant embroidered daisies.
MASKS: Ornate hoods masked the hair or face at Alexander McQueen's sensual, edgy show, there were flying saucer masks from a futuristic Paco Rabanne, while Gareth Pugh built sharp white cages around his models' heads.
METAL: Paco Rabanne's return to the catwalks was the cue for a display of metal, a staple of its founder, with sheriff's buckle belts at Yves Saint Laurent, gold embroidery at Balmain, metallic lace dresses at Valentino, and at Haider Ackermann, golden slip-ons and a fluid all-silver dress. At Paco Rabanne itself, new designer Manish Arora used python plates to create metallic-looking body armour.
ORGANZA/GAZAR: Light-as-air fabrics made of twisted silk threads, giving them natural, shimmering volume, organza and gazar were everywhere, most strikingly in the sensuous gem-coloured tops at Yves Saint Laurent.
PASTELS: Louis Vuitton and Chanel built their entire looks for next spring on pastels, also a strong presence at Christian Dior, John Galliano, Rochas and Felipe Oliveira Baptista.
PLEATS: Ubiquitous this season, with pleated silks everywhere, pleated leather at Celine, full-length pleats with a coloured stripe on the crest at Chloe, tiny, tight pleats at Alexander McQueen, and a sheer, pleated moss-green dress at Lanvin.
SHORTS: Mini-shorts — a strong trend last year — cropped up again in smooth ivory at Louis Vuitton, in leather and suede at Balmain, and in bold pink lace at Valentino, growing into fluid bermuda pants at Dries Van Noten or Guy Laroche.
SLEEVES:Long, long, long — slinking down over the hand Christian Dior or Stella McCartney, while Yves Saint Laurent showed flower-like cuffs that opened like petals around the hand.
SPORTSWEAR: Strips of sporty mesh were worked into silk mini-dresses at Stella McCartney, Felipe Oliveira Baptista used a skydiver's suit as blueprint for his athletic-looking collection and Kenzo embraced a sporty new American look with long-visored baseball caps.
WEIGHTLESSNESS: Lightness was a key watchword as Karl Lagerfeld created a floating, aquatic underworld at Chanel using ultra-light fabrics, Felipe Oliveira Baptista and Issey Miyake created billowing parachute capes, and the models at Dries Van Noten or Sonia Rykiel floated past in light-as-air dresses.